Cloud Recovery Services
During a serious outage, your employees are counting the seconds until they can regain access to their critical systems.  Without a proper Disaster Recovery solution, your business is crippled.  
Until now, a true high availability IT environment involved a commitment of budget and resources that may have been beyond your organization's reach. But cloud computing is improving the way businesses make technology decisions.  It enables companies to pay for technology in a utility-based model, eliminating the need for capital technology investments.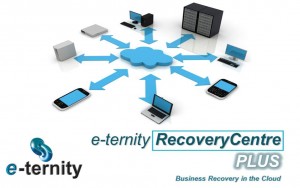 e-ternity RecoveryCentre PLUS enables you to restore your systems to e-ternity's offsite secure hosted environment and access your systems in the cloud.  Using any desktop computer available, any employee will be able to resume their tasks by simply connecting through the internet to the new IT environment, picking up where they left off.
e-ternity RecoveryCentre PLUS includes:
Furthermore, with 6fusion's UC6 console, the pay-per-use hosted server platform that powers e-ternity's Infrastructure-as-a-Service offering, you will only pay for the computing resources you need, when you need them!  The net result is a disaster recovery environment that is available on-demand at a fraction of the cost of a traditional recovery solution.

Contact Us to Learn More