e-ternity RecoveryCentre PLUS
e-ternity RecoveryCentre PLUS
In the event of a serious outage where your primary location is inaccessible and you don't have an IT infrastructure available as a restore target,  e-ternity RecoveryCentre PLUS is the perfect answer.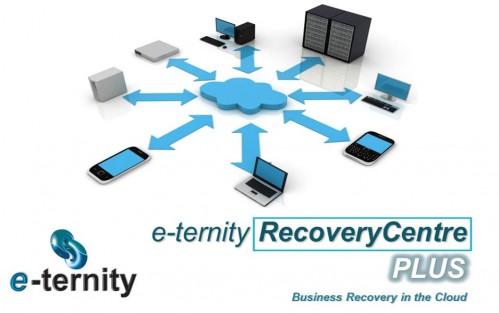 e-ternity RecoveryCentre PLUS  enables you to restore your systems to  e-ternity's offsite secure hosted environment and access your systems in the cloud.  Using any desktop computer available, any employee will be able to resume their tasks by simply connecting through the internet to the new IT environment, picking up where they left off.
Our service includes:
Backup of all data from your primary location to  e-ternity's secure cloud data vault*
Restoration of your business systems to   e-ternity's hosted cloud server environment and connectivity for all of your users via the internet**
A secure IT environment with a managed firewall and advanced net- work security protection***
A step-by-step disaster recovery plan with detailed instructions to optimize the recovery process, along with staff training and annual testing****
Furthermore, with 6fusion''s UC6 console, the pay-per-use hosted server platform that powers e-ternity's  Infrastructure-as-a-Service offering, you will only pay for the computing resources you need, when you need them!  The net result is a disaster recovery environment that is available on-demand at a fraction of the cost of a traditional recovery solution.
*powered by  e-ternity RecoveryCentre
**powered by  e-ternity SkyScape
***powered by  e-ternity SecurityCentre
****powered by  e-ternity PlanningCentre